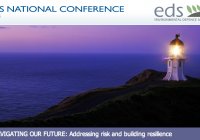 Bernd Gundermann will speak at the Navigating Our Future National Conference of the Environmental Defence Society (EDS), which will be held at the Viaduct Event Centre 5-7 August 2014.
Bernd's presentation on Adaptive Urbanism is part of the Building Urban Resilience session on Thursday morning, chaired by Stephen Town, the Chief Executive of Auckland Council. The session will begin with the key note given by Morten Kabell, Mayor of the Technical and Environmental Administration of Copenhagen, who will talk about the city's climate change adaptation plan. After Bernd Dr Ralph Chapman, Victoria University of Wellington, will talk about cost, benefits and risks of compact versus dispersed urban environment. The session will be closed by Gael Ogilvie, Auckland Council's Manager for Environmental Services. She will elaborate on the transformational shifts needed to achieve the "world's most liveable city" aspirations.
For more informations about the EDS National Conference please visit the official website. We will report more after the event: stay tuned.