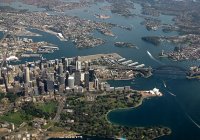 Bernd and Prof. Will Steffen, Climate Councillor with the Climate Council of Australia, are featured in a radio broadcast aired 17 September on The Wire, which reaches 5 million people via community and Indigenous radio stations around Australia.
Will states the the continent is highly vulnerable to increasing sea level rises due to the huge population living on the coast. The Climate Council of Australia stresses that the country is not prepared for the predicted sea level rise which could cause billions of dollars in infrastructure damage.
Bernd explains possible solutions to go about the problem with the emphasis on Urbia Group's expertise in soft, ecosystem-based options that achieve greater resilience, improve biodiversity, and boost coastal lifestyle as part of Australia's culture. He also shifts the attention to learning from the indigenous people and their intrinsic spiritual connection with land and sea, which in his view would be Australia's greatest advantage in responding to Climate Change and its impacts.
More information in the landmark report exploring coastal flooding: the sleeping giant of climate change risks that you can read here: https://www.climatecouncil.org.au/coastalflooding. The Australian Climate Council is a non-profit organisation founded by members of the former Climate Commission, which the self-confessed climate-sceptic PM Tony Abbott abolished on the twelfth day of his office.
Listen to the broadcast and click below: