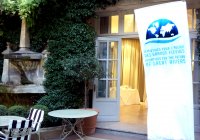 The IFGR (Initiatives for the Future of Great Rivers) convened for their third session in Avignon, France. Within only one year of successful work the IFGR has managed to be endorsed by the COP22, the UN Conference of Parties regarding climate change. Bernd and his fellow members this time focussed on deltas. The session paper will be presented at the COP22 in Marrakech, Morocco, on November, 9, when the IFGR will host the event "Rivers: Challenges, Stakes and Solutions in the Face of Climate Change".
Deltas are the most fragile and vulnerable environment, where c 500 million people live. Climate change will hit the deltas first and therefore it is overdue to concentrate research efforts there. A visit at the Carmargue, where the group learned about transient management strategies, as well as a ride on CNR's river research vessel "Frederic Mistral" added to the background implemented into the joint work.
The IGGR's fourth session will be held at the Itaipu Binacional dam in Paraguay/Brazil in March 2017.