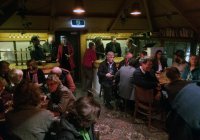 Check out how much Garry Moore, host of the Tuesday Club and former Mayor of Christchurch, enjoyed Bernd's presentation:
"To say that our speaker last week gave a remarkable presentation would understate the presentation massively. Bernd has extensive international experience on reconstruction and rebuilding of Cities and neighbourhoods. His focus in recent years has been around climate change and sea level rise. All this knowledge comes from his background as an architect and urban designer. This was the sort of big thinking most of us have been hanging out to hear since the earthquake. We were challenged by this thoughtful and intelligent long term thinker, to consider what we have to plan for to achieve a liveable city in the 22nd century. He demonstrated his talk with examples of societies which had faced the sort of challenges in front of us as a country and, especially, as a city. The opportunity which the earthquakes have given us to look at the urban form in a different way was a fundamental part of the talk. Older civilisations which have the approach of a "managed retreat" from challenges like rivers shifting their banks need to be models for us with global warming and sea level rise. Bernd's advice is that we need to plan for these things in a measured and sensible manner. We must plan for our housing stock to be able to be shifted. We need to plan for green buffers to be implemented over the next 100 years so our successors can say we used this disaster to our City as a way of sensibly planning for their future.
Bernd impressed us all with his knowledge and his experience. Here was a good listener who displayed great depth in his answers. He gave me a sense of hope. There were representatives of both CCC and Development Christchurch at the meeting and they left saying they would get Bernd back to assist them with their future thinking. Thanks a heap Bernd for coming down here."