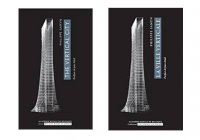 Booklets, these handy packages of compact information Urbia Group has developed for years, have made their way to Europe. Our colleague Philippe Samyn from Brussels announced today the issue of his first one featuring Vertical Cities.
Bernd and Philippe are members of the Global Award community. He invited Bernd to speak to the Royal Academy of Belgium. Both share the interest in holistic approaches to sustainable architecture as well as promoting ideas in nice, succinct formats. Philippe was excited when Bernd gave him Urbia Group's latest booklet when they met in Paris - which consequently led to his own one that you can order here.
Philippe comes from a background as civil engineer and architect. Together with Bernd they explore soft adaptation to sea-level rise at the North Sea coast of Belgium.
The booklets of Urbia Group can be downloaded here.