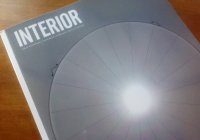 This time Bernd addresses New Zealand's prime environmental challenge: the unprecedented loss of its unique biodiversity.
He has been regular columnist for the Interior magazine for over two years and always has his own pick on hot topics, which he investigates from his special angle. Bernd wrote this column under the impression of the last conference of the Environmental Defence Society (EDS) in Auckland, where he presented Urbia Group's Adaptive Urbanism. Directly after his speech Bernd was approached by Dame Anne Salmond and Ruth Marsh, who welcomed his emphasis on Deep Ecology and told him about their private initiatives to take care of local environments.
Bernd strongly supports private action on environmental matters, because they instigate movement whereas the government or local authorities often hesitate to trespass the interests of New Zealand's strong farming industry. However, as Bernd points out in his column, the aim for maximising economic gain out of cattle farming puts our rural environment on the line, and science often is trapped between a rock and a hard place.
This year's EDS conference in August will focus on biodiversity loss. Bernd again sniffed out a topical story. Grab a copy of Interior and read.